How to say Happy Birthday in a Funny way?
>
The thing everyone must know is that we all deserve a Happy Birthday Funny wish on our special day. Because well, we all know it is becoming a little boring to say a regular Happy Birthday these days. You can either spam the feed with birthday cakes, birthday quotes, birthday wishes. Or you could do something little creative. Adding a little humor in the birthday wishes not only makes it easy on the eyes but also attractive for the audience. You never know what funny can do in real life. Take a look at these hilarious ideas for wishing a very happy to the people you love with a perfect touch of funny as sarcastic humor.
1.  Happy Birthday Funny Images
What would be a better way to say it, than sending a funny birthday image? You can be really creative with it as well. It is almost like remembering a memory from the past or suggesting something for the future. You may crack some eggs on your birthday boy, but cracking virtual eggs on the birthday is kind of mandatory as well. Might as well send a cracked eggs image.
Happy Birthday! May you live to be old and toothless.
And that old lady with few or none teeth in her jaws and those adorably squeezed smiley eyes make it more convincing. And cute.
I'm pretty sure that all of the birthday wishes you get, mine will be the wishiest! Happy Birthday
That panda holding the ice cream though? He looks happy and the happy bithday message would be well delivered.
Smile, it's your Birthday!
Can not actually tell if it is an actual smile or the wind pressuring it. But the message is amazing. Your birthday boy needs to be reminded to smile a little more? Here you go.



Just called to say Happy Birthday. By the way, ate your cake.
Error 404 – Cake not found. In order to avoid some drama at the party, it would be nice to tell them you are just coming for the cake. I mean the birthdays are about cake, everybody knows it, right?
Happy Birthday, Big Boy!!
The frog with the cool sunglasses and that smug face declares him as a big boy. Hallelujah, the day is here.
Birthdays are good for you. Statistics show that the people who have the most live the longest. Happy Birthday!
Makes sense? Does not matter. Because the statistics say that. And hey, I have experienced that myself, so trust me.
Old Guys Rule, Relax, it is your day. Mint Condition, Living Legend, Smokin' old guy, king of the road, Happy Birthday!
Don't make them feel bad about getting old. This picture gives him many reasons to believe how incredibly awesome it is to be old. So here is your perfect happy birthday card for him.
2.  Happy Birthday, the Meme style fun that will make your day
It is 2018, and it is still trending. If you keep tagging them in memes on normal days, it is now the right time. I mean it is the birthday1 Make a birthday wish for her or him by sending an adorable meme based on happy birthday humor. It will surely add a perfect touch of humor to the birthday of your special one.
Happy Birthday, and Believe me, no one can wish you a better happy birthday than me
Everyone should believe Donald Trump though. Because when he says Happy Birthday, he is damn serious about it.
Don't worry about getting older, You are still gonna do dumb stuff. Only slower.
Ain't that right though? Because it is not like being older is the end of life. You can do anything you want. The speed will be slower, otherwise, nothing to complain.
Another year older, and still as sexy as ever!
The handsome Llama with the emo haircut is symbolic for the sexiness of the growing birthday person. Tell them how undeniably amazing they still look, and of course, compare them to a Llama.
Happy Birthday, Dear Son! Feel Proud to have a father like me
Leo De Caprio raises a toast and says Happy Birthday son. A remarkable gesture, until he says you should be proud of having a father like me.
Happy Birthday Sister, Don't tell mom that I came late last night
Will Smith feels like the annoying brother who gets himself into troubles and asks the sister to cover up for him. And a birthday wish is just the thing which can make it even *kidding*. Come on bro, share it with her.
Happy Birthday, I nose it will be good
Hey, Lord Voldemort's nose is special. And if he said it will be good, it will be good.
3.  Funny Birthday Quotes, only the hilarious ones
Words are getting very much attention these days. In the world of social media status updates, instant messaging and stories, it is important to share exactly how you feel. And when it comes to funny, it is all about the word selection. Let it be irony, puns or straightforward joke, the funny happy birthday quotes got them covered.
"It takes a long time to grow young", Pablo Picasso. Happy Birthday, Young lady!
Because no one is growing old. You are growing young honey. And beautiful.
Bunny got so high on crack he forgot to get you a birthday present. But he wishes you a happy birthday anyway!
Who gave the bunny crack anyways? Well, I will look into that matter. Meanwhile, share this hilarious happy birthday wish.
P.S: It is just an excuse to tell them you forgot the present.
I hope you enjoy your birthday just like when you were born in this world. Without clothes.
And a baby sleeping without clothes is captured for the background. Cute and only slightly creepy.
"Why is a birthday cake the only food you can blow on and spit on and everybody rushes to get a piece?" Bobby Kelton. Happy Birthday!
This one just makes you question the ritual of lighting and blowing candles on the cake. And apparently spitting on it.
"40 is when your body gives your brain a list of things it is not going to do anymore." Unknown. Happy Birthday!
Only a friendly reminder for being old. And not being able to do stuff. I repeat, a friendly reminder, no offense.
4.   Funny Happy Birthday Gif to share right now
When just picture is not enough, then comes the snippety shot of a gif. It is clever, how pictures move and convey a message. Sometimes it is just an awkward dance move, other times it is utterly hilarious. Happy Birthday gifs on the internet have all kinds of variety available. But if we send a gif, it might as well be hilarious. That's why the funny happy birthday gif is highly recommended.
Baby putting head in a chocolate cake says Enjoy Your Birthday to the Fullest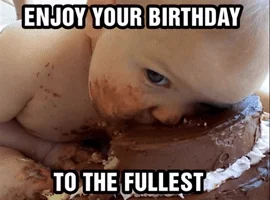 Trust me it is not a total waste of chocolate cake. One can only fantasize about such stuff, but this baby made it happen.
Child swaying around in dance moves, says Celebrate!
The kid got moves, the kid showed 'em. And he is certainly a happy birthday boy. Spread the positive birthday vibes to your birthday boy, and if possible, trap him into a dance performance as well.
Hamster fetches and starts eating a piece of tiny adorable cake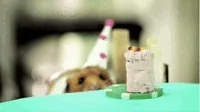 A tiny pet with a tiny cake piece, how undeniably cute that is. And he is not a patient hamster. He most certainly wants to rip that cake apart with his tiny adorable teeth.
Charlie Chaplin throws Confetti in the air and says Happy Birthday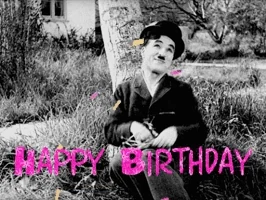 In the world of black and white, Charlie Chaplin, the uncrowned king of funny manages to throw colorful confetti in the air and feels so happy about it. The glittery happy birthday wish makes it, even more, share-worthy.
Inverted White Kitty closes and opens each furry paw alternatively, saying Happy Birthday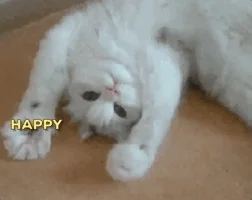 White munchkin goes around to turn herself and plays with her kitty paws. While a genius makes the Happy Birthday magic happen.
5. Funny Pictures for the Happy Birthday wish
You say funny, they expect something. I mean bland happy birthday images aside, but funny ones should be really challenging. I mean what if you saw a puppy smoking a Cuban cigar and saying Happy Birthday in the huff smoke? Or last year your birthday boy wished with the cake on his face and you got a wide shot picture of the cakey face? Well that, or you could share this picture as well.
It is our birthday and we want Wine and cheese, but mostly Wine!!!
The adorable baby dressed up in a tuxedo wants wine. And cheese of course.
Happy Birthday! Thank you for always being older than me.
The baby with the evil grin will make them realize they are older than you and shall stay like this forever.
Smooches from Donald on your birthday!!!
Can't get enough of Donald Trump? We neither.
Wait, wait, wait… You are how old?
Because he is a little confused and cannot believe.
I have decided I am not old. I am 25 plus shipping and handling!
Clever way to tackle all those 25+ problems, indeed.
6. Happy Birthday for that Hilarious Friend
We all know that one friend who would crack a joke anytime. No matter how insulted, sad or angry, a joke comes up from him and makes everybody laugh. Don't you think that funny friend deserves an extremely funny happy birthday wish? We know you grinned at this one right here. So take this picture and let him know you have got the funny GAME ON. Because there are 85% chances that he has not seen it yet.
Happy Birthday to someone I hope is still my friend even when we are too senile to remember each other's birthdays
Old, forgetful and still together, those are some real friendship goals.
Happy Birthday to the only person I would rescue in the event of a Zombie Apocalypse
And share the apocalypse chocolates, peanut butter and crackers with, none other the best friend. The Zombie Apocalypse certified friend.
Best Wishes. Happy Birthday! For your birthday, I wanted to give you something that was both funny and charming. But then I remembered, you already have me in your life.
A am not just an ugly duckling of your life, I am a funny and charming one as well.
There's nothing more despicable than forgetting to tell a friend, "Happy Birthday"!!!
Oh yeah, no more despicable ones. But the minions definitely rock though.
Happy Birthday to one of my best friends! Here's to another year of laughing at our own jokes and keeping each other sane!! Love ya
Inside jokes apart, the things you just said were not funny at all. Not for the other people especially, because not everyone is your best friend! Enjoy that special bond with your special friend.
7. Happy Birthday Adorable Funny Song
Gone the days when friends wrote happy birthday songs for their spoilt brat friends. Now you can just pick a song from a wide variety of songs available on the internet. However, you may want to recreate the video as it would add a personal touch to your happy birthday song. And plus, you can do all the silly things you want to make it even more entertaining and fun. Get your happy birthday jam, make that teddy bear dance all over it. Or kick the teddy out and mock his moves yourselves!
Monkeys dancing on the happy birthday song wishing you a fun birthday this year
Source: Youtube
Minions wishing happy Birthday by singing a song
Source: Youtube
Teddy Bears Sings a Funny Happy Birthday Song for You
Source: Youtube
Dog Wishes Happy Birthday In a Funny Way
Source: Youtube
Happy Birthday Video Compilation with lots of funny birthday songs!
https://youtube.com/watch?v=12WCAJcWcGw
Source: Youtube
8. Happy Birthday Funny Video
Oh yeah. Content creators these days are on fleek. Whether it is a DIY video for creating the best birthday party ever or a happy birthday wish video. You can get anything and everything. Get ready to dive in the flood of funny happy birthday videos and choose the perfect birthday video for your birthday girl/boy. It is not just about sharing casual funny videos on Facebook walls and tagging in vines. It is about choosing the best and sharing it at the right time.
Penguin sings a song and does the funny happy birthday dance
Source: Youtube
Cute characters sing a Happy Birthday song but forget the name
Source: Youtube
Mice sneaking in to say Happy Birthday to You
Source: Youtube
9. Happy Birthday Funny Messages
This goes without saying. No matter how delicate ensemble your birthday wish is, you need a text. A text at 12:00 in the night showing you care enough to make them feel special on their birthday. But it can a little tough to make up something funny so late at night. So it is recommended to be prepared for it. Check out these funny happy birthday texts and see if it fits the description of your loved one.
I usually forget people's birthday, but look at this miracle and how lucky you are! I remembered yours. Happy Birthday Silly!
Happy Birthday to the friend who owes me so much. Well, let us make it even because I didn't buy your gift! Happy Birthday to you!
Oh hey! You got another year to annoy everyone you know! Well, Happy Birthday anyway.
Heads up, keep your expectations low about the food and dinner today. Rumor has it, dad would be intruding the kitchen. Happy Birthday, Brother!
Another year well spent, where you pretended that you are already old enough to care about the people around you. And guess what> Many more will come because you are not growing up anytime soon. Happy Birthday, dear!
Happy Birthday!! There I said it. Now gimme the cake!
A little side note. Make sure the people you are sending these funny happy birthday texts to, are on humor basis with you. If you do not have that kind of understanding with each other, this can be a little awkward situation. And keep in mind the age and age difference, the degree of attachment and previous responses of the birthday person. This is just to make sure you do not hurt feelings of anyone in general, or particularly the one intended for these messages. Birthdays are a beautiful thing, make these days even more beautiful by using the funny happy birthday texts to your birthday person.
10. Happy Birthday Funny Girl
Finally, the day is here, when you could impress her. That funny girl in your social circle who does not thinks twice about getting embarrassed and pulls off the lamest or funniest jokes anytime, anywhere. Time to tell her, she is not the funniest, because you are here and this specific joke about her would definitely make your day. Or her day. Yes definitely, because it is supposed to be a funny happy birthday for her, right?
Forget about the past, you can't change it. Forget about the future. You can't predict it. Forget about the present. I didn't get you one. Happy Birthday!
I will not make any age related jokes because I really feel bad about how old you are… Happy Birthday!
Hey! Happy Birthday!!! You remembered my birthday!! (facebook notification: that girl with no friends) Of course. Aawww <3
You are 50 Today – so relax, don't fret…
Who's a birthday girl? You're a birthday girl!
11. Happy Birthday Funny Wishes
Yes, baby. Funny Happy Birthday wishes everyone would die laughing at. Are you ready to get that title yet? Because everyone else is. Funny wishes are so much better than regular happy birthday wishes. And we ensure you, whether it is your friend, your family, your coworker, your neighbor or anyone else. It WILL make them laugh. So enjoy these funny wishes and tell everyone how happy you are on their birthday. No matter if the cake is the one and only reason for your happiness, LOL.
Happy Birthday, Weirdo!
With age comes new skills… you can laugh, cough, sneeze and pee at the same time!
Hello! Yes You! The old one! Happy Birthday!
Happy Birthday to you, you live in a zoo, like a monkey, like a donkey the gorilla is you!
Happy Candle-blowing, wish-making, cake-eating day!
Remember age gets better with Wine. Happy Birthday!
12. Happy Birthday Funny Man
Men may seem masculine, tough and hardcore. They love humoristic content. Waiting for an excuse to make him smile? Here it is. Surprise him on his birthday by sending funny happy birthday wishes to him. He would definitely not deny how amazing these wishes are! Or if you are lucky, he would send you those lol emoji as well.
Sometimes you need a friend who will remember your birthday… and sometimes you need a friend at 3 am to help hide the body. We both know which one I am. Happy belated birthday!
Happy Birthday Dumbass!
A long time ago, in a galaxy far, far away, somebody pretty cool was born. Happy Birthday!
Your birthday it is. Celebrate you must.
Never too old to party! Happy Birthday!
13. Happy Birthday Funny Brother
I think we all can agree now. Brothers can be either the sweetest person on Earth, or either the most annoying one in the universe. You could fight him all year long, but there is one day when we can get over their annoyingness. And that is his very own birthday. Time to transform a birthday into a very happy birthday? Share these funny birthday images for a brother so you could both laugh at once.
Happy Birthday, Brother from the same mother!
Thank you for making it easy for me to be the favorite child. Happy birthday!
Happy Birthday to a brother that has the world's greatest sister. You are so lucky.
Happy Birthday to my special brother!
Being related to me is really the only gift you need. Just saying.
14. Happy Birthday Funny Sister
The most adorable kind of sibling. She may annoy you but you know deep down inside your heart, that she cares. She cares for her sibling and wants her happy. But a casual happy birthday wish won't cut it off. Get your sarcastic horses on the run because we have found some amazing happy birthday wishes for her! Check out and share these with her, don't forget to pull her hair after, because duh. She is the sister, she probably deserves it.
Happy birthday to my little sister. Don't worry about your age. You are still younger than me!
Happy Birthday to someone who is Gorgeous, Smart, Funny and reminds me a lot of myself… from one fabulous sister to another!
It's your birthday!! I wish I could figure out how old you are but I hate long math. Ain't nobody got time for dat! Happy birthday!
Happy Birthday… Once I thought having a little sister woud be fun… now your birthday reminds me I'm old.
Happy Birthday to my big sister who will always hit every decade before me! Lol!
15. Happy Birthday Funny Images for Her
Now is the turn of your special one. Well, I don't only mean your girlfriend, wife or fiancé. I also mean every single woman in your life who deserves a birthday wish. Make her feel special by sharing her these accurately funny happy birthday images for her and specially designed for the beautiful, intelligent and graceful her. And the serious stuff is over, so get yourself into the funny one.
Happy Birthday! Says a handsome animal with the red rose in his mouth for her.
It is your birthday!!!
Happy B-day!
In honor of your birthday, I placed you on the liver transplant wait list. You are welcome.
May you live to be so old, that your driving terrifies people.
16. Happy Birthday Funny Cat
No, no, no, not your adorable pet. We are talking about those funny cats who make the most hilarious faces captioned by the geniuses. A funny cat could make your day, whether it is anyone. Look at these amazing happy birthday wishes by cats and see if this is what you were looking for.
Happy Birthday! Have a mice day, best fishes.
Turn up the mewsic and let's get this pawty started!
Another year older? Are you kitten me? Happy Birthday, Jen!
Happy Birthday! *shiny kitty eyes*
Happy Birthday crazy lady!
I told you – I hate celebrating my birthdays! Huh? That delicious cake is all mine? Happy Birthday to me!
17. Happy Birthday Funny Cards
Remember the old days, when we used to give actual physical cards to the birthday girl or birthday guy? No? Only me? Guess I was born too early. Well, this is not only that but better. You don't have to visit a shop anymore, because there are numerous choices available for cards from which you can choose. And make sure these are funny. Because cards could be boring, but fun is always underrated. See, these cards are not only beautiful but very hilarious as well. Make sure you see if you got a happy birthday funny for her or his card.
Free cake! I mean… Happy Birthday!
You were born on this date so we are going to put fire sticks in baked goods and sing at you while you sit there awkwardly
Happy Birthday from your biggest fan.
Happy Beer-th Day!
Hope your birthday is on point, says the happy cactus.
18. Happy Birthday Funny Old
Old people have birthdays too. And it can be quite easy to find happy birthday funny wishes for old people because most of the jokes are revolving around the age factor. But make sure the person you are sharing these jokes with are comfortable with them and they do not mind these at all. Take a look at these happy birthday jokes for old folks, or the ones you consider are getting old.
Pro Tip: These can be very popular among the people who don't admit their actual ages as well.
Happy Birthday you old bat!
Happy Birthday, You Old Dog!
Better to be an old fart than a dumb ass. Happy Birthday!
Many Happy Returns! May your hair dye and mascara never run! Happy Birthday, Old Lady!
19. Happy Birthday Funny Dog
After cats, it is time for the dogs. We understand some people are not cat persons and these ones are specially designed for them. You could be imagining if your dog could pose like that, and studies suggest that there is a 60% chance you will try that on him as well. But that is a long shot, so for now, take a look at these adorable happy birthday funny dog images and tell your birthday guy that you are aware of his love for the pets. Especially the doggies.
Smile, It is your birthday!
I never forget your birthday, buddy! Just wanted to annoy you later. Happy Belated Birthday!
It is your birthday? Sweeeettt.
Heard it was your birthday!
Princess Puppy is going to wish you a nice birthday.
Happy Birthday! *Creepy Stare*
Oh gee, thanks. You didn't had to buddy. I mean I know you love me, but what if something goes in your eyes.
Oh Lord Jesus, It is a fire!
And it looks scary. I am not sure about the cake though, because I would still eat that.
20. Happy Birthday Funny Pics
So did not find the picture of your choice yet? No problem. Still, have a chance. We have got these multiple random happy birthdays funny pictures, happy birthday images that will entertain you. So choose the ones of your choice and make sure the birthday boy or birthday girl gets it on time!
Happy Birthday you party animal!
Look who is talking. And hello to you too oh party animal!
May you have more birthdays than 90% of people in the Game of Thrones
Is that a good wish? Wait, let me think about it. But, we never promised good, we promised funny here.
I wanted your birthday fun to last, so I got your card Llamanated.
the card with some Llamanation is exactly what defines the perfect combination of adorable and hilarious.
I just wanted to eat but you lit my food on fire
All he wanted to do was eat, and all he was afraid of was fire.
Happy Birthday, Old Timer!
The doggie with the adorable red bowtie and old timer glasses with the classic magician hat with a cake in front of him wishes someone a very happy birthday in full on comic style.
I don't always wish people on Facebook. But when I do, it is because they are awesome.
Wishing Happy birthday on Facebook will always be something, especially for the ones whose birthdays you cannot really remember.
HI-DEE-HO Neighbor, Happy Birthday! *peeking through fence*
Hope you found the correct humorous happy birthday wishes you were looking for. These amusing and witty birthday images would go for almost everyone in your social circle. Whether it is the annoying sibling who would tease the hell out of you or the silly neighbor who occasionally waves at you. The adorable coworker who you share those coffee moments with or that hilarious friend with the nasty sense of humor. The silly girlfriend who would not shut up about the joke she heard yesterday, or the crazy cousin who keeps constantly tagging you in the memes. Now do not forget to share them with your loved ones so they know how great is your sense of humor and how much you care for their goofiness. Keep visiting our site for more birthday content updated continuously on cool happy birthday wishes and so much more.